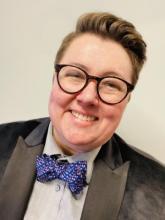 Director
Spectrum Center
Jesse Beal (they/them) is the director of Spectrum Center. They joined as associate director in November 2021 and were named the director in December 2022. Prior to arriving at the University of Michigan, Jesse served as the director of The Gender and Sexuality Campus Center at Michigan State University. Jesse is an experienced student affairs practitioner, who brings over a decade of experience leading student-facing affinity-based resource centers at Amherst College, Brandeis University, Suffolk University, and MSU. They bring a demonstrated history of working towards equity and inclusion in higher education with a practice that is collaborative, student-centered, intersectional, and justice based.
Jesse has been a social justice and LGBTQIA2S+ activist, educator, and consultant for the past fifteen years. They present regularly at national conferences and at many colleges, universities, and nonprofits. Jesse serves as the external coordinator for the Consortium of Higher Education LGBTQ Resource Professionals, a member-based association working toward the liberation of LGBTQ people in higher education. Jesse is also a PhD student in the Michigan State University Higher, Adult, and Lifelong Education (HALE) program studying LGBTQIA2S+ populations in higher education.
They possess a Master of Arts in women's and gender studies from Brandeis University and a Bachelor of Arts in women's and gender studies and government from the University of Texas at Austin.
As the director, they provide campus-wide leadership on strategies to advance equity, and inclusion with regard to gender and sexuality. Jesse drives our strategic planning, sets unit goals, and oversees the operation of the center and our programs and services.
Educational background
PhD student in higher, adult, and lifelong education, Michigan State University
MA in women's and gender studies, Brandeis University
BA in women's and gender studies and government, University of Texas at Austin
Contact me for:
consultation and thought partnership on LGBTQIA2S+ equity and inclusion.
advocacy related to LGBTQIA2S+ equity and inclusion.
questions related to Spectrum Center leadership and strategic planning.
information about how to make an impact by joining our incredible community of donors.
support or to grab a boba tea or coffee and talk about all things gender.